Hot
New
In stock
Pre-order
Out stock
Squishy Paws™ - Comfy Pet Beds for Dogs & Cats
PRODUCT INFORMATION
SHIPPING
PRODUCT INFORMATION
"Many pets love it instantly, and find it is a super cozy spot to curl up and stay warm in all year long." - BuzzFeed
Squishy Paws are the Pawwwfect Bed To Ease Your Dogs' Anxiety! Introducing our new, original Squishy Paws™ - one of the highest quality pet beds produced! Ultra Soft, Made of Vegan Fur, and extra comfy.
According to a research done by the University of Lincoln, on a daily basis, 1 in 4 dogs experience anxiety. When they are left alone, they build up stress and this leads to severe destructive behavioural problems, loss of appetite and a shorter life span.

Best solution: Anxiety in pets can be simply solved with a little bit of rest. That's where Super Paws helps! The Squishy Paws™ bed mixes happiness and luxury into the most majestic sleeping experience for your furry friend.
Extra comfort - Ideal for pets who love to curl up! The raised rim provides head and neck support, while the super-soft filling offers joint and muscle pain relief. Your pet will be sooo relaxed!
Eases Anxiety - The raised rim creates a sense of security & coziness.
Cleaning dog hair is easier - When your pet sleeps, it sheds hair. Let them sleep in an area where it is concentrated, and you will have less to clean up!

Ultra Soft, VEGAN Fur Fabric

 

- made from ultra soft vegan fur. It is one of the comfiest materials we sell. Its long fibers are soft durable, and machine-washable.

Luxurious design

 

-

 

sleek design, this bed is a great addition to accommodate the design of any home!

Easy to clean

 

-

 

every bed is safe in the washing machine and dryer (Machine wash, gentle cycle. Tumble dry, low heat).
We also recommend you measure your dog when it curls up, you should then be able to get an indication as to which size is perfect for your dog. Please allow 2 - 3cm error.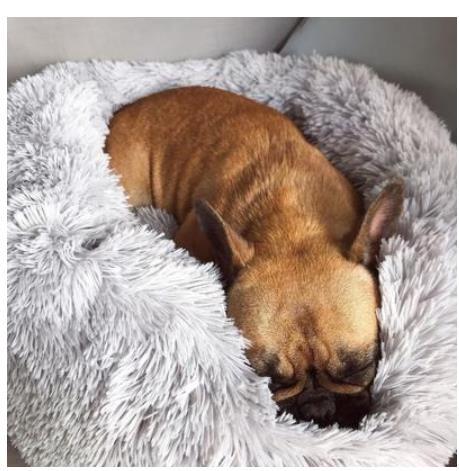 SHIPPING & RETURNS
US & CANADA: 7-14 days
International: 12-30 days
Our shipping spans are slightly delayed due to the pandemic. However, we're processing all orders as usual. Our fulfillment times are not extended.
 Your purchases are protected by our 7-day Money Back Guarantee (starts from the day package is marked 'delivered').
At Urelas, returns and exchanges are easy and quick, we offer:

✔️ Free returns & exchange
✔️ Full refunds if product gets lost in transit/undelivered
✔️ Award-winning 24/7 support team for your help

Learn more about our returns policy here.
SHIPPING
Since shipped from different warehouses, our customized products and non-customized products take different delivery spans to reach you, as listed below.

Customized Orders
Includes products like Custom House Portrait, Pet Portrait etc.

We usually dispatch our custom prints in 1-3 days, which is the fastest dispatching span across the internet for a cusomized product. The shipping times, depending on the carrier, are as follows -

- US & Canada: 3-8 days
- Europe & UK: 3-9 days
- International: 7-14 days

Non-Customized Orders
Includes products like Lunibox, Zozoid Lamps, Feathersy, Happy Anus Mug etc.
Depending on where your order is being delivered, it can take 2 to 3 weeks to arrive. All our orders are sent using a tracked service for your convenience.

Estimate delivery times & prices are:

- US & Canada: 1-3 weeks; $0 (Free) by EMS
- International: 2-5 weeks; $0 (Free) by EMS

Delivery time spans are not guarenteed as certain factors like customs clearance, export customs and frieghts aren't directly under our control.
For more information, please visit our FAQ page here. To learn more about our shipping policy, please click here.
My dog absolutely loves this bed! My pup does not really care for dog beds (he is really little and the beds are usually too big) but once this came out of the package and fluffed up, he has been sleeping and lounging in it all the time. Plus it looks nice with my decor. This is such a great bed I just ordered him another one.
I have to say, I'm incredibly happy with this bed. I have a 6 month old beagle/hound mix and he absolutely loves it. Keeping him off the couch when we're not in the living room was a bit of a challenge, but with this bed he has zero interest in going on any of the furniture unless it's to lay with us. He sleeps in it all the time- He's sleeping in it as I write this! Also, the bed is way more durable than I had expected. The pup loves to chew on soft things and he eats through his plush toys like they're snacks. This bed has been super resistant to any tearing whatsoever - we've had it about a month now and it doesn't have a single rip in it though he has certainly tried.
We have a cocker spaniel who weighs 30 pounds. He was introduced to this bed via our daughter in law. She purchased a small for her 50lb rescue dog. Her pup curls up into a little ball into the small. Every time she visits with her dog and her bed our little guy gets in to it every chance he gets!
This bed is amazing! My dog has slept in it since the day it arrived and he even sleeps in it at night. After years of sleeping on my bed, we are finally getting a good nights sleep. I ordered the medium and it is a perfect size for him. He is so relaxed and happy.
The dogs just LOVE this. I have ordered 3 more.